Monday, 3 September 2007
*Sweeping Dust
*Removing Cobwebs
*Mopping Floor
After Suzumiya Haruhi-sama, comes Code Geass : Lelouch of the Rebellion.
Great Anime, characters done by my favorite manga-ka group CLAMP.
The main lead, Lelouch, is former prince of the Britiannia Empire. It's year 20XX, The holy empire of Britiannia have previously engaged a diplomatic war with Japan as the latter found a new source of power, Sakuradite, mined under Mt. Fuji. Sakuradite is used to make superconducters, hence, Japan was able to control the world of economics.
For some unknown reasons, the house that Lelouch was staying went under attack by assassins. To make worst, the securities were set to the minimum. His mother died while shielding his sister, Nunnaly from the shots but Nunnaly suffered two fatal gun wounds at both her knee caps.
After the incident, Nunnaly was handicapped and blinded due to emotional trauma. Lelouch went straight to his Father, the King of Britiannia and asked him why didn't he send help.
The king just replied that useless things ought to be gotten rid.
In surge of anger, Lelouch went into exile, with Nunnaly and lived in the school compound of the Ashford family.
Years past, Lelouch grew up to be a genius. He's good with chess and other theories/strategies. One fateful day, he met C.C (pronunced as C2) whom gave him the power of Geass, absolute order. Using this power, he started to wage war against the Great Empire of Britiannia as ZERO, a Mastermind of the Order of the Black Knights.
Lelouch's geass - Absolute order, forces the victim to obey his commands until the last command has been carried out.
***********Spoliers***********
C.C is sooo cute, I like her soft spot for pizzas. Pizza Hut is featured throughout this anime XD.
Lelouch, at some angles looked like Kamui from X/1999, earlier work of CLAMP. XP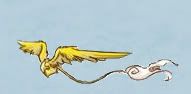 Existing the story...