Friday, 21 September 2007
Remember I mentioned about blasting BBQ pit. Well here's it.
Tip
Dip the charcoal in satay peanut oil, spam all the fire starters and wait. Minior explosions will happen, just to "prepare" you for the big one.
One more thing, please don't try thing at home or on any other pits which you rented.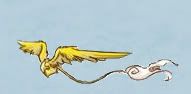 Existing the story...