Sunday, 16 September 2007
OK, people, I'm going back to soft relaxing musical pieces.
Presenting Final Fantasy VII
Aerith and Tifa Theme respectively.
I guess everyone had at least heard them before once.
But these songs are worth listening over and over again.
I wonder why, but to me, soft non-vocal music has this soothing effect.
Everytime I listen to this type of music, they make me feel that I'm out in the country, away from the urban restains. If I were to visualise, I would be lying on a hill-side medlow, blossoming with violet lavender. Cool breeze cradling my face, stars-filled evening sky with setting sun, painting the sky with warm orange and pink.
I think it must have been since young, my sister and I would always play disney love songs like "Can you feel the love tonight?" and "Reflections" and musical jazz pieces like "Fly me to the moon" and "Right here waiting", that I've grown to appericiate these type of music.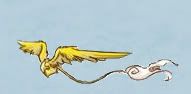 Existing the story...