Saturday, 8 September 2007
Image taken from GSDragon Alchemist's imeem page.

OMG!!!!

EXTRA..EXTRA...READ ALL ABOUT IT

Pizza Hut Support the Rebellion ZERO Against the Holy Empire of Britiannia.

Damn. For once I regerted being a Singaporean. Pizza Hut in Japan are giving free anime merchandises when you order the pizzas online. TwT

And for once I can boldly say I'm an 1/4 a OTAKU!!!!!!
C.C will be waiting at Season 2.
OBEY!!! By my power of Geass. You shall watch Code Geass Season 2.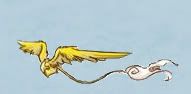 Existing the story...