Thursday, 27 September 2007
Another entry means another fun day for me. XD
Yesterday as in really yesterday since now is already 2+am, I had the JCG BBQ at Aloha Loyang and Hare Hare Yukai dance practice.
The BBQ isn't that fun though, it was very ill-planned. The oragnisers put it on a weekday when most of the ploy students are working, having SIP or DRP. Next, they checked in very late, around 7pm and without any food, charcoal and fire-starters. We had to wait until around 8 for the essential stuffs to arrive....
Fire was started at 8.30pm(around there) and started BBQ-ing at 9pm..... Sigh, I just ate a piece of chicken chop without the skin as it was charred badly, foil-grilled fish which was suprisingly good( prepared by my club president...All Hail. No joke, he's really good in cooking, much better then me) and drank 2 cups of juice. This dinner costed me SGD$12, excluding a bowl of ba chor mee(minced meat noodles in dialect) for supper to decrease my hunger bar. T_T
Earlier on, I get a rare chance to enter the Design School's Sound Room where all the recording of music and songs are done. The room housed two sets of recording equipments and two apple desktops.
Reason why I gone in there? READ THE SECOND SENTENCE OF THIS POST
Me and my tomodachi(friends in japanese) are practising the Hare Hare Yukai concert version dance steps. More like a learning session to me, it was my first time learning it.
Yata!!!! I managed to master the first half of the dance and completed the whole dance routine 4-6 times. I did make some but obvious mistakes though. Mada mada desu....
Practice!!!!!!!!
After Hare Hare Yukai, Lucky Star!!!!! XD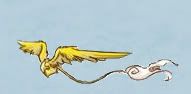 Existing the story...