Sunday, 12 August 2007
Yesterday was very fun. XD
First up, I met up with the newbies of sgcafe at Cineleisure, under the newbie orientation organised by BrokenSinfulLove. I got to know a lot of people there, seniors I should say.
Anyone feeling eggy???
Our last stand....... 50 eggs
Steamboat dinner at marina bay was awesome. We sure ate our fair share of $13. Proteins and proteins all the way.
Soooo today I'm going fibre-rian, replenish my fibre intake. XP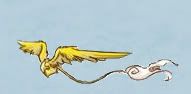 Existing the story...