Sunday, 5 August 2007
Well, nothing much today actually. All the fun was yesterday.
Took a train down to VIVO to check out the cosplay event *COUGH* Rock music event****
Saw some cosplayers without their costumes. LOL
Sadly, I have to leave early due to break training at 3pm. Maybe those cosplays start to appear after I've left. T_T
Oh yar.
I've got a Revotech Black Saber Figurine from YZ&FY. O.O My jaw literally dropped when I saw the box. Thanks a million!!!!! Never knew you girls know about Fate/Stay Night. I had always thought that both of you only know Clamp related anime/manga.
I was shocked. Seriously......
My new avatar. XD Image taken from another SGCAFE member.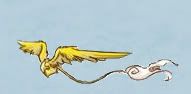 Existing the story...