Saturday, 4 August 2007
Today was fun!!!!! Tanoshii desu ne.
I went to Suntec City for the CosCon event. Don't worry N3O, I didn't bring my D-Cam so no photos.
A lot of repeats from Cosfest, guess they didn't have enough time to make another costume. Also there were new costumes sighted, such as Mario, Lucky-Star, T.V Dude from Air Gear.
I even witnessed my fellow SGCAFE members rehearsing the "Hare Hare Yukai" dance.... I soooo wanted to join them. XP
I don't know why, ever since last year's EOY, I had been wanting to cosplay but didn't due to my indecisiveness. However, after going to Cosfest07 Day 1, my heart was some how galvanised to cosplay. XD
So after the event, I went to Bugis to meet up with my family and had dinner in a sushi bar there. Ohisiiiiiiii!!!!!!!!!
Man, I'm sooo full right now....
Sigh......here comes the bad news...... After a whole day out, I've 20 OC2 practice papers worth of topic4&5 questions to do before Monday. If not Dr Ong will start giving attitude again......
LOL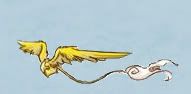 Existing the story...