Saturday, 18 August 2007
Osashibu ne!

It has been a long time since I had blogged.
Recently, I've been testing out various MMORPGs, meaning I signed up as their closed beta tester and play the game to find bugs.
This game features 3D rendered characters in anime SD form, the character is about 3-5 heads tall. Features 4 typical classes - Fighter(Tank, 2-handed DPS, Hybrid), Archer(Range DPS), Mage(Elemental Spam) and Cleric(Survival and Buffs)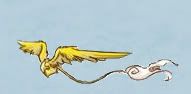 Existing the story...