Wednesday, 1 August 2007
OK folks, I'm gonna be very busy from now on.
I've deadlines to meet and topics to revise.
Will me M.I.A for the moment.
Hopefully if I weren't K.I.A, I might just be able to post some things every now and them.
Just checked the GE website, it's official. Version 2.1.8 will be release on 16 August.
Came acrossed this pic while surfing the jap GE server. The artist has done a good job on the anotomy and body shape. Wish I could be like that....Enjoy
Counting down - 4 days till I can buy cocktails from bars. Hint**Hint** XP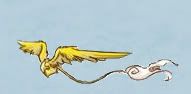 Existing the story...