Sunday, 26 August 2007
Yesterday was fun!! =>
It started off with me going back to TP to watch Paprika - Movie screening by JCG, at 10am-12pm.
It's kinda like a "Dream turned Reality, Dream-terrorism, Power of Dream" concept. Someone uploaded the movie on to Crunchyroll.com. Feel free to watch it.
After that, the whole group board bus 69 to bedok to hitch a ride to the campus of a Japanese Primary School in Changi. Why do we go there? Simple. We volunteered to do rough jobs there such as setting up the tables and chairs to gain free entry/coupons to the annual Natsu Matsuri, commonly known as Summer Festival.
The event was super fun, too lots of photos, had lots of japanses food and drinks. I even got to rent a set of Yukata to wear. XP
Yukata is like kimono, but much cooler, not as stuffy as the latter. Hence it is worn during summer time while kimono i worn during winter. The traditional dances are good and I met a lot of friends from sgcafe.com, most of them are wearing their own yukatas.
After the whole event, my friends were like so hyped up that them did the "Hare Hare Yukai" dance from "Suzumiya Haruhi no Yuutsu". COOL!!!!!!!
I guess the whole club is infected with the Haruhisum Virus. We even suggested that during the September-October holidays, we're going to set up practice sessions for those who want to learn the dance. I'm soo gonna join that. XP
Will post some nice photos soon, check back every now and there, peeps
.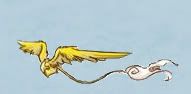 Existing the story...