Sunday, 8 July 2007
Yeah!!! It's the annual COSFEST again. This year there will be 3 days of fun filled events for cosplayers and anime&manga lovers.
Went to the semi-finals held at Ngee Ang City, outside Takashimaya yesterday.
I loved the performance done by all the nine participants, especially the skit from the group who cosplayed Tales of the Aybss, the Keyblade commercial done by the Kingdom Hearts II cosplayers and the Dance item by Suzumiya Haruhi no YuuTsu. Sugoiii ne, the dance was KAWAII.
Here's Tidus and Yuna cosplayers
Next up we have Haseo and Azure Kite from one of my favorite games - .HACK//GU
How about a date with the Girl from Hell???
Psss, she's one of my CCA senior from TP XD
Cool!!!!
Saw some of my JCG juniors cosplaying Haruhi - Ouran, Shinn and Kira - Gundam Seed Destiny
Sadly my sis's D-Cam is problematic, the battery keeps draining away after the first shot, straight for max bars to 1 bar and to low bat......T_T
That's why I only can grab 3 shots yesterday, using my phone cam and editing the sharpness using the photoshop programme that comes with the Nokia PC Suite software.
MUST GET MY HANDS ON A WORKING D-CAM BY NEXT FRIDAY!!!!!!!!!!!!!!!!
Next weekend will be the finals for the COSFEST competition.
I'll definally be going for the remainding two days.
Resolution for the EOY Cosplay Festival - Cosplay GE Musketeer.
I'm serious, no jokes XP
Gotta find some muskets replica/toys.
Ja ne.
Kiotsukete!!!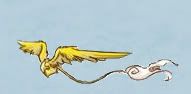 Existing the story...