Friday, 13 July 2007
YAHOOO!!!!!
Tomorrow's 2nd day of COSFEST'07
BUT............
Right now I'm super-bored... and ended up taking this test again(I took it once last time)
http://www.quizbox.com/personality/test82.aspx
Results
Your view on yourself:
Other people find you very interesting, but you are really hiding your true self. Your friends love you because you are a good listener. They'll probably still love you if you learn to be yourself with them.
The type of girlfriend/boyfriend you are looking for:
You are a true romantic. When you are in love, you will do anything and everything to keep your love true.

Your readiness to commit to a relationship:
You are ready to commit as soon as you meet the right person. And you believe you will pretty much know as soon as you might that person.
The seriousness of your love:
You are very serious about relationships and aren't interested in wasting time with people you don't really like. If you meet the right person, you will fall deeply and beautifully in love.
Your views on education:
You may not like to study but you have many practical ideas. You listen to your own instincts and tend to follow your heart, so you will probably end up with an unusual job.
The right job for you:
You're a practical person and will choose a secure job with a steady income. Knowing what you like to do is important. Find a regular job doing just that and you'll be set for life.

How do you view success:
You are afraid of failure and scared to have a go at the career you would like to have in case you don't succeed. Don't give up when you haven't yet even started! Be courageous.

What are you most afraid of:
You are afraid of things that you cannot control. Sometimes you show your anger to cover up how you feel.
Who is your true self:
You are mature, reasonable, honest and give good advice. People ask for your comments on all sorts of different issues. Sometimes you might find yourself in a dilemma when trapped with a problem, which your heart rather than your head needs to solve.
I don't know about the relations part but I'm quite sure that the "view on success" and "Afraid" are true. I ain't a risk-taker, that's for sure.
Hmmmmm... job thingy...... Rights I'll be selling anime/manga merchandises and cosplay materials for life XD LOL.... Tallies with the "unusual job" for me, a future science diploma holder. XP
OK GTG, need my sleep and recharge my mana before spamming my photo-shots spells tomrrow at COSFEST.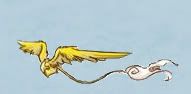 Existing the story...