Monday, 23 July 2007
Wonder why but these few days I'm like in Suzumiya Haruhi mode.......
Alden screwed up his card-florishing when I said "phew chew".
Dr Vijaiya said "my hair is neater compared to last time when it was more fuzzier" when I actually prayed that she would not notice the length.
ok gtg, tml need to wake up at 5.30am.....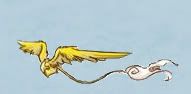 Existing the story...