Wednesday, 25 July 2007
Rights I tried to post "some" reference pics for my costume design but it turned out to be just 1...
Errors occured for the rest...............
Sigh.........
GE international website - http://ge.iahgames.com/en/
GE Korean Server - http://ge.hanbiton.com/default.asp
GE Japanese Server - http://ge.clubhanbit.jp/intro.asp
I've gotten most of my references from these three websites, fanart sections.
15 minutes later..... Finally......

Just for your info, this costume is a level 72-84 in-game armour. I'll be using luster yellow for the overall base, torques and black ribbons for those stripes, luster torques for the pants, shoulder pads and gloves, and synthetic leather for the boots.

http://ge.clubhanbit.jp/community/picture/list.asp?page=1&search_kind=&search_text=

I often visit this site for more GE fanart, as most of them are done in anime style and are really good.
Such as this :
My personal favorite XD
Those chibis are so kawaiii !!!!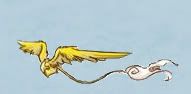 Existing the story...