Thursday, 19 July 2007
THE FOLLOWING ENTRY MAY SOUND EMO, BUT ITS NOT..........NEITHER IS IT A CHEERFUL ENTRY. YOU MAY CHOOSE NOT TO READ THEM AND CLICK ON THE RED "X" BUTTON WHICH KEEP YELLING AT YOU "CLICK ME"
It has been a month since I switched to this peaceful haven.
No doubt its peaceful around here, no rantings about me not putting breakdanceing as my top priorty from my TG mates. No silly craps from Munky either, I just can't seem to tune to his frequency.
Yet it has been too quite. So far only a few people have been constanly tag on my Cbox.
Ups to Myst, for keeping my board/blog somewhat alive.
I can't just delete the board, if I do, might as well use a diary instead.
Neither will I commit the same mistake like last time, letting TG members know of this place, They will just treat my haven as a dumping ground for them.
Appearently, none of them share the same passion as me. To most of them, breakdancing is their way of life as they grew up in the most normal life a teenager could have. They yearn for more adrenline, through breakdancing.
As for me, I grew up in the world of anime. I remenbered that when I was in primary school, I would always stay at home on Saturdays, 2pm just to watch an anime about a hidden "puzzle" robot in a school buliding, which will rearrange themselves when a golden star-shaped token was inserted into a star-shaped depression found on a student desk. Not to mention the animes that followed, from Ranma 1/2, SailorMoon(yar I did watched them)and Dragonball, to Slam Dunk and Cooking Master Boy, and to the not-so-recent Gundam Wing and Card Captor Sakura.
At that time, I only know them as cartoons. Only until my neighbour introduced me about "Grandar Musashi" - a fishing anime used to be on AXN, that I came to know them as anime.
So later, after owning my own SCV box, I'll finish my dinner at 5 so that I can watch 5.30-8pm anime slot on AXN. Shows like Flame of Recca, You're under arrest, Samurai X, Vandread, Gensoumaden Saiyuki, Escaflowne and many more.
Soon after, Animax came in. They expanded my anime viewing arena, with more matured animes like .HACK/SIGN, Saber Marionette J, Ex-Driver, Twelve Kingdoms, Inuyasha and Ghost in the Shell, and I can't remember the rest...Too many titles.
Now I watch anime online while renting manga to read.
My life revloves around A&M, intertwined and fused together.
I doubt there's anyway they will understand how I feel.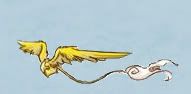 Existing the story...