Sunday, 22 July 2007
I'm kinda tired these few days..
First up, I'll have to complete my marketing project by the end of next week. Next there's a communication skills project to complete by 17 August. Thirdly, need to study FPATH NOW!!!!!
LOL
Yesterday was nee-san's 21st birthday. She dragged me out to accompany her to watch Potter getting controlled by the Dark Lord. Sigh...what to do, just had to go even thought the tickets were $10 apiece and me knowing the the movie is no up to standard. Sigh... Of all the places, she chosed Marina Square. Hence pricing=OUCH T_T
Luckly, the theater's structure is good, no, the best I should say. The height difference is the seats are so much that even if the person in front of you is 1.8m++, there will be minimal view obstruction.
But before the movie, I went to Arab Street to get 2m of luster orange cloth and 2m of synthetic leather, for my EOY costume. The leather costed a bomb, so huge that I could literally felt my wallet being set aflame when I forked out the payment...
Now, I'll really pray to kami-sama that the teachers of AS will not catch me for keeping long hair, I need them as the character I'm cosplaying has a long hairstyle. A wig is a no no, too expensive. T_T
Right now, I'm soooooo bored that I want to watch Ouran again..
Oh, yar last thing of the day, I'm starting to hate ChuangYi and Odex........
And ammmmm.. Bleach fillers are getting annoying, it's better to read the manga off/online instead.
Kill the buddha if you see him.
Kill the father if you see him.
Do not be cativated by anyone,
Just live the life the way you are.....
From Gensoumaden Saiyuki - Genjyo Sanzo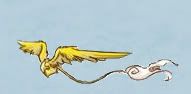 Existing the story...