Monday, 30 July 2007
Finally, I can breathe!!!!!!!
PLM Project done, I've just handed in the report at 12pm today.
Next is the assignment on the different drugs and their PIL(Patients Information Leaflet), presentation on the 1st part of the report I had handed today(my team's doing Tiger Balm Neck and Shoulder Rub) and CSAS report.
After that, just when I thought it's all over, the four letter word looms over me, glaring at me like a hunter in the dark. The menacing four letter word we all hate - EXAM.......
6 more days left and I can buy Baron's without fear. I need it for one simple reason.
To enter BARON mode during EOY and PK and squad I encounter with my "bloody Overdrive" and "R.I.P" stance skills
Ok the last part is totally no link and random.......
Ja mata ashita.
PS - Tomorrow, there's no CDS/Freehand Drawing for me. XD
School ends at 12 pm. Yes-Sar!!!!!!!!!!!!!!!!!!!!!!!!!!!!!!!!!!!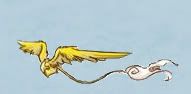 Existing the story...