Tuesday, 17 July 2007
Back to the uneventful days of my humble life.............
For those who are interested in the performances showcased during the COSFEST 2007, just type in cosfest 2007 in youtube search tab.
Look out for the dance routines done by the Suzumiya Haruhi no Yuutsu team. They Rocked the tentage down.
Rights gonna choing OC at 10pm....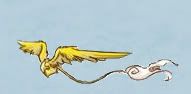 Existing the story...