Sunday, 24 June 2007
WAHHHH!!!!!!
School reopens tomorrow.......
Well these two weeks aren't even holidays for me, got to rush all my projects etc.
At least there are some events that I truely enjoyed during these pesudo-holidays.
1. Granado Espada Day Raid @ ZOUK
2. JCG orientation as a event helper AKA Saikang General
First up, the raid party at zouk totally rocked the place down. I really enjoyed the offline quest(mini station games) there, furthermore those quests are form the game itself, so for veteran gamers like myself, its a piece of cake.
I think it was my luck, because I reached there at 3.30pm, the mini quest ends at 5.30pm and some stations are very cramped. Luckly, I met two fellow gamers who are one member short for their squad(3 per squad) and joined them(ps. they've got 8 stamps down XD ). Together, we completed all 8 quests and obtained all 12 stamps, entitling a set of postcards, a door hanger and an in-game item - Angel Wings each.
I also bought a T-Shirt with the a series of fighters who are getting bigger and with higher level stances than the pervious one. Below it is this phrase"The Thoery of Levelution"
Kakoii.....
Next up, was the JCG orientation. Yataa!!! By default, I'm in the subcom, don't need any interview. XD
I was the saikang general of that day, serving my saikang lord, I'm also the water bombs (ammonutions) enchanter for the final clash(I manufactured 300++ ammo and enchanted them with H.I.E.T(high-impact explosive trigger).
The final clash was fun, ending with all of us(GLs, SMs
, helpers) bombing the newbies. Tanoshii ne....XP

Ok, next event will be the 2/3 days COSFEST at De'marque in NTUC Downtown East, 7 and 14/15 July (OR/AND/BOTH). Interested parties PM me.
Also there will be the Natsu Matsuri - Summer Fest some time in late August. I'll post up the details when I'm told.

GTG, gotta grind in GE again. XD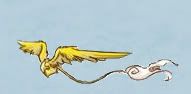 Existing the story...