Friday, 22 June 2007
This will be my new haven.
Far away from Theory G and all the troubles, rantings.
Far away for all the stress in life.
Just me and those whom I can really rely on for comfort
This place is where I'll be able to do what I really wanted, like changing my blogskin to a skin that I feel is nice. Be it girly or not, there is no demarcation for a blogskin to be strictly for male or female.
This place will be the place where I can blog about the things I like. Anime reviews and recommedations, Cosplays, Songs and Granado Espada.
No crazy bboying stunts here
Most certianly, no emoing.
Croix, Toya and Zen's no longer here.
Boku wa Shun, Shimizu Shun.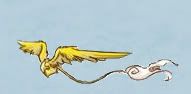 Existing the story...