Tuesday, 26 June 2007
Aloha...

Current feeling - No self-discipline to do homework/projects

DAMN!!!! I'm really addicted to GE and other games.....
Someone save me!!!!





JUST KIDDING
Just today, I was suddenly drawn into the new gatsby song - I can give you GATSBY.
It's a remix and short version of a song sung by SMAP in the 1970s - Can't give you anything(but my love).
http://profile.imeem.com/oQP4Xd/playlist/NWq0ost9/
here's the playlist I've created just for these two songs.
LOL
I'm hearing and imagine Elvis danceing right now..... RETRO Fever!!!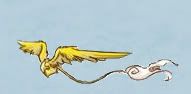 Existing the story...