Friday, 22 June 2007
First up, the skin is from the anime AIR SUMMER SPECIAL.
Actually i want to use a skin from an anime - Romeo X Juliet but sadly can't find any.
The BGM is a japanses version of the pop song - You Raise Me Up. It's the opening of Romeo X Juliet.
It's a good take of the classic romance story.
In the actual story, the Montagues and the Capulets were of equal power, and the Capulets were a little tyrant.
In the anime, it's the Montagues who were the tyrant ones while the Capulets(with the position of Grand Duke) were known for their chrivaly.
Montagues engaged a slaughter of the Capulets House to sieze the title of Grand Duke, only Juliet of the Capulet and a handful of loyal servants survived death.
Years past, Montagues gain ruled the city, people who curry-flavoured them gained wealth are known as nobles.
While the story follows the plot written by Wiliam Shakespeare, there are some minor changes like Juliet knowing the way of blades(Fencing, swordplay of that era) and Romeo riding pegesus but it looked like a breed between a dragon, a horse and bird(for the wings).
SPOILERS** William himself appeared in the anime **SPOILERS END
"Is this love truely never be able to bear fruits?"
Enjoy my little haven.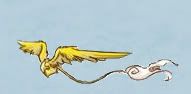 Existing the story...